Announcing CA: Journal of Cultural Analytics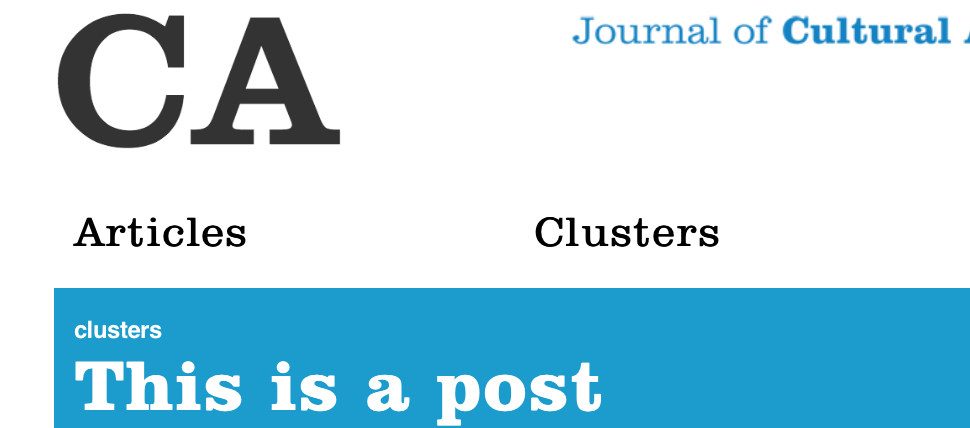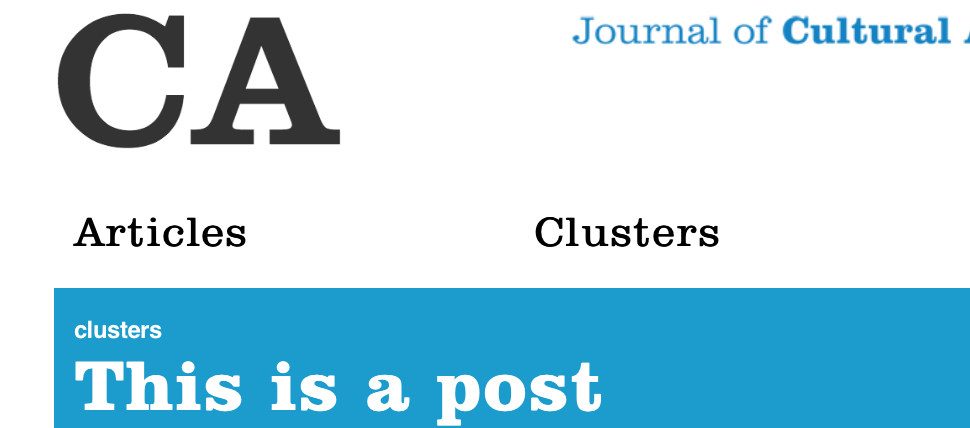 I am very pleased to announce the pending launch of CA: Journal of Cultural Analytics, an open-access web-based academic journal that will focus on the computational study of culture. CA's mission is to use data-driven approaches towards the study of literature, culture and history.
Our mandate is as capacious as it is focused: to transform the humanities through the use of new kinds of methods and evidence grounded in the critical, creative, and theoretical traditions of humanistic inquiry. CA seeks to publish articles that intervene in existing critical debates about culture and establish new lines of inquiry using computational methods. We will have sections on peer-reviewed articles, reviews of new data sets, and a debates section that engages in more timely discussions about new directions in the field.
Below you will find the contents of the inaugural issue and the members of the editorial board.
Our launch is scheduled for May 2016. We look forward to your feedback and submissions!
Sincerely,
Andrew Piper
William Dawson Scholar of German and European Literature
Department of Languages, Literatures, and Cultures
McGill University
CA: JOURNAL OF CULTURAL ANALYTICS
**Issue #1**
Tanya Clement, Stephen McLaughlin, David Tcheng, Loretta Auvil and Tony Borries, "Measured Applause: Toward a Cultural Analysis of Audio Collections."
Lev Manovich, "The Science of Culture? Social Computing, Digital Humanities, and Cultural Analytics."
Ted Underwood, "The Life Cycles of Genres."
Paul Vierthaler, "Fiction and History: Polarity and Stylistic Gradience in late Imperial Chinese Literature."
EDITORIAL BOARD
Editor
Andrew Piper, McGill University
Site Editor
Amy Hungerford, Yale University
Managing Editor
Tracy Valcourt, McGill University
Data Set Review Editor
Laura Mandell, Texas A&M
Editorial Board
Alan Liu, UCSB
Amy Hungerford, Yale University
Annie Swafford, SUNY-New Paltz
Ben Schmidt, Northeastern
Elizabeth Maddock Dillon, Northeastern
Hoyt Long, University of Chicago
Ian Milligan, University of Waterloo
James English, UPenn
Katherine Bode, Australian National University
Laura Mandell, Texas A&M
Lev Manovich, CUNY
Mark Algee-Hewitt, Stanford University
Matt Erlin, Washington University
Matthew Wilkens, Notre Dame
Matthew Jockers, University of Nebraska
Natalie Houston, UMASS-Lowell
Rachel Buurma, Swarthmore
Richard Jean So, University of Chicago
Tanya Clement, University of Texas – Austin
Ted Underwood, University of Illinois
Timothy Tangherlini, UCLA
Tom McEnaney, Cornell University
---