CA Is Here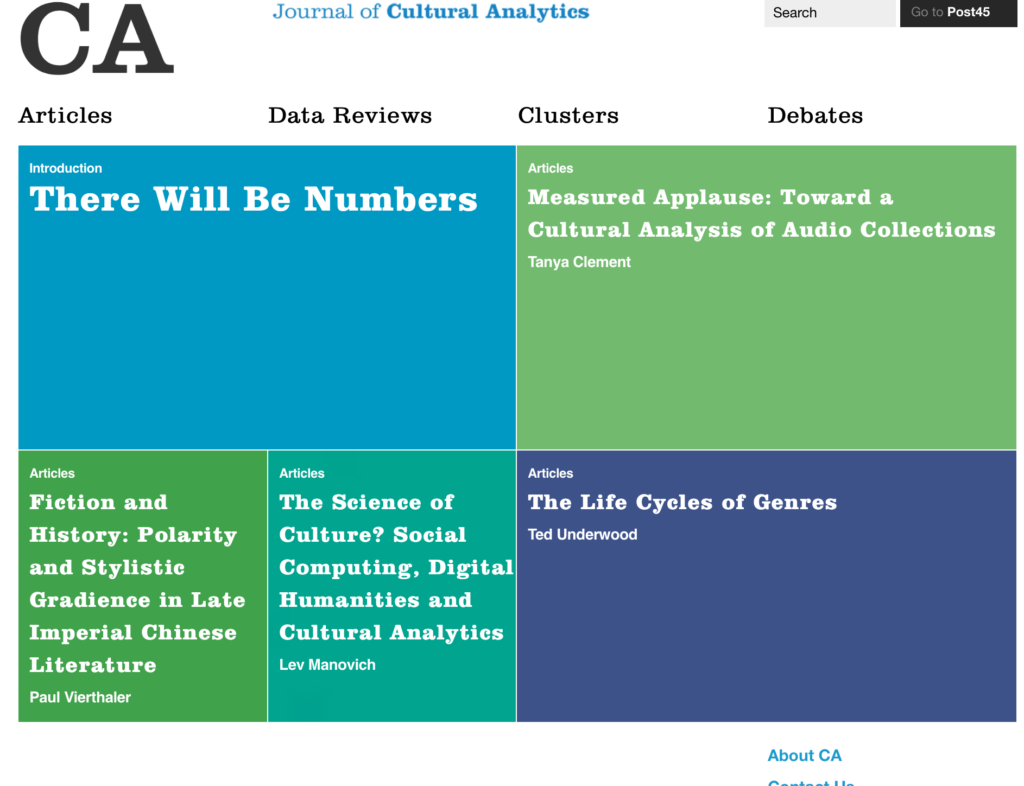 I am very pleased to announce the official launch of CA: Journal of Cultural Analytics. As we state in the journal's mission statement:
Cultural Analytics is a new journal dedicated to the computational study of culture. Its aim is to promote high quality scholarship that intervenes in contemporary debates about the study of culture using computational and quantitative methods. Articles are expected to combine theoretical sophistication, computational expertise, and grounding in a particular field towards the crafting of novel, thought-provoking arguments. In combining the very best of the humanities and the social and computational sciences, Cultural Analytics aims to challenge disciplinary boundaries and serve as the foundational publishing venue of a major new intellectual movement.
We have a tremendous editorial board and a great line-up of initial articles including an introduction to the journal that I have written that tries to articulate the value of computational research in the field of cultural studies.
We look forward to your feedback and submissions!
Issue #1
Tanya Clement and Stephen McLaughlin "Measured Applause: Toward a Cultural Analysis of Audio Collections."
Lev Manovich, "The Science of Culture? Social Computing, Digital Humanities, and Cultural Analytics."
Ted Underwood, "The Life Cycles of Genres."
Paul Vierthaler, "Fiction and History: Polarity and Stylistic Gradience in late Imperial Chinese Literature."
---